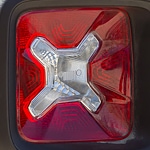 Here in Billings, we want to introduce you to one of the most popular subcompact SUVs on the market, the Jeep Renegade. Not only does the Jeep Renegade offer panoramic views to enjoy anywhere the road takes you, but you decide what style will set you apart from the crowd on your travels.
Enjoy the open air in the Jeep Renegade with two different panoramic sunroof options. The Jeep Renegade's customization options are above and beyond the competition. The MY SKY power-removable sunroof lets you easily remove the two panes and stow away in height-adjustable cargo space for optimal airflow. You can also change up the style of the Jeep Renegade by choosing between nine different wheel and tire combinations.
Visit our sales team to learn more about the customizable features of the Jeep Renegade, and to take one out for a test drive around the city.